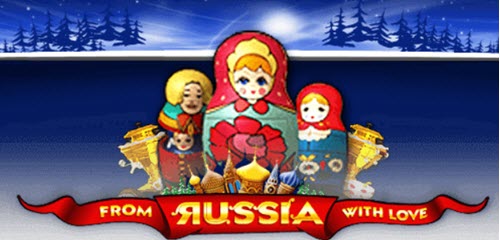 From Russia With Love is a slot machine created by the gaming giant Playtech. This game comes with wilds, scatters, and free spins with win multipliers. Examples of symbols that can show up on the reels are matryoshka dolls (bonus symbol), vodka (scatter symbol), onion (wild symbol), samovar, balalaika, ballerina shoes, and sushki.
Game deveoper
Playtech.  This is in an old slot and it can no longer be found in all Playtech casinos.  It can be somewhat hard to find but if you look around you should be able to do so.  At the time of me writing this you can lay from russia with love in Slotland. An online casino completely devoted to slot machines.
Wagering
Smallest wager: 0.25 per round
Largest wager: 25 per round
Largest win
The largest single win is 10,000 times your bet. You need a five-onion combo to win this.
Wild symbol
The onion is wild and can replace any of the regular symbols, but not the scatter symbol or the bonus symbol.
Scatter
The vodka is a scatter symbol.
Free spins bonus round
You need the russian doll (Matryoshka) bonus symbol on reel #1 and #5 to obtain free spins.
Russian dolls will appear on your screen and your job is to select one of them. (They will be waiting for you by a frozen lake in a snowy Russian landscape.) Once you have selected a doll, she will reveal how many free spins you get from her.
You are allowed to continue selecting dolls as long as you pick dolls that have another doll hidden inside. It is possible to collect up to 74 free spins with a 2x win multiplier.
When you select a doll that freezes and disappears, you wont be allowed to pick any more dolls, and the free spins that you have accumulated will start.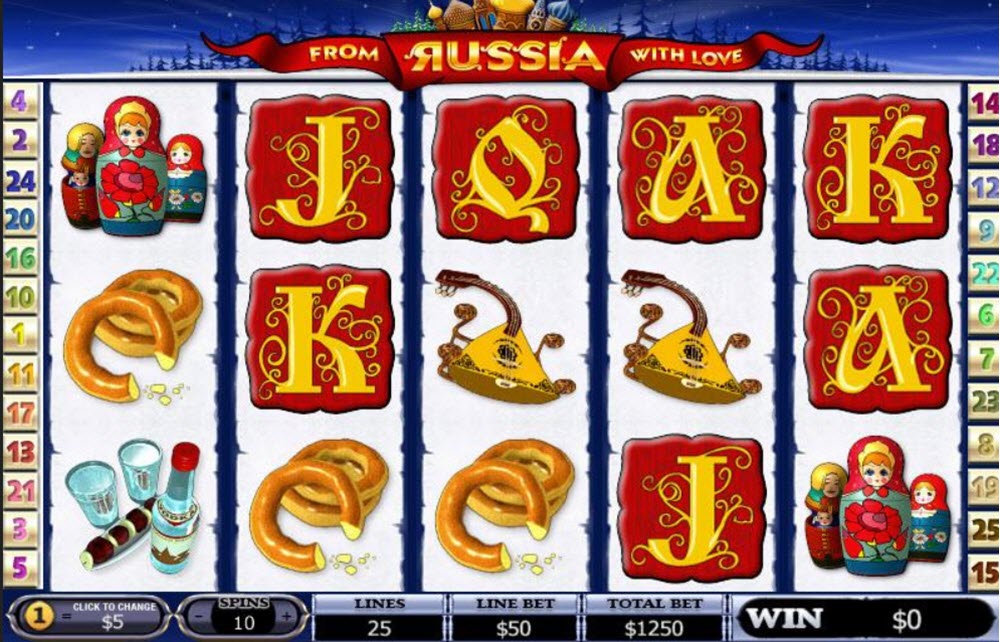 Did you know…?
The first matryoshka doll set was made at the Children's Education Workshop in Russian in 1890. This set consisted of eight dolls: a mother in traditional Russian peasant dress and her seven children, including a baby.
The Romanov family rules Russia before the revolution.
The word vodka is a diminutive form of voda, the Slavic word for water.
Russia is on the top-10 list of major onion producing countries.
A samovar is a special container used to heat and boil water. The water is typically used to make tea. A standard Russian samovar will have a ring-shaped attachment around the chimney to hold and heat a teapot filled with tea concentrate. Tea for drinking is prepared by dilluting the concentrate with hot water from the main samovar container, usually 10 parts water to 1 part concentrate.
Balalaika is a Russian string instrument with a triangular body. Unlike a guitarr, a standard balalaika only have three strings.
Founded in 1776, the Bolshoi Ballet in Moscow is one of the world's oldest still existing ballet companies. Along with the Mariinsky Ballet in Saint Petersburg, it is recognised as one of the foremost ballet companies in the world.
Sushki are small, dry bread rings eaten in Russia and other parts of the Slavic world, preferably together with tea or coffee. The ring shape was important in the olden days, when sushki were strung on a string for storage and for selling at the market.