There are many great venues for orchestral music in St. Petersburg, including several philharmonic halls. Also, some of the venues that are chiefly famous for ballet and/or opera also offer orchestral concerts now and then. This is for instance the case with Mariisky Theatre.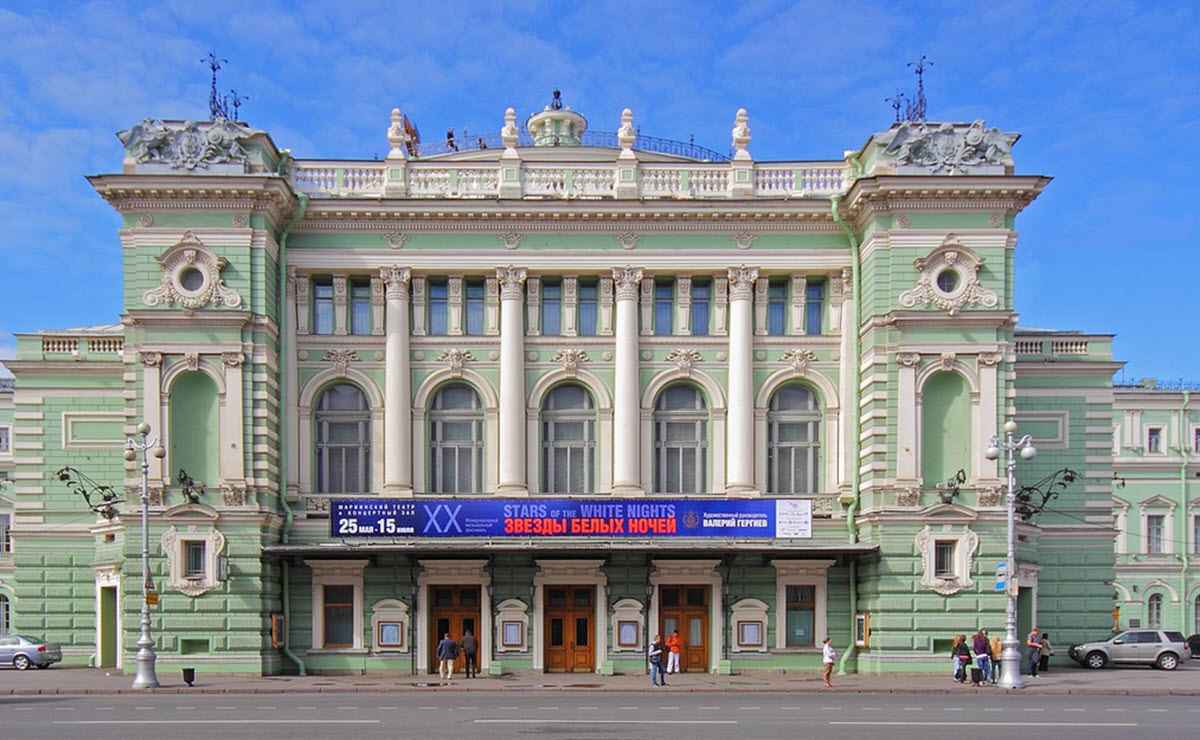 St. Petersburg Philharmonic Grand Hall (Bolshoi Zal)

Address: Mikhailovskaya Ul. 2
This is the venue for a top-notch orchestra that is highly renowned in Russia and have received great reviews for its performances abroad as well.
The original building – designed by P. Jacot and with a facade by C. Rossi – was completed in 1839.
The Bolshoi Zal (Большой зал) is one of the best known music halls in all of Russia, and it is a part of a large building complex by Nevsky Prospekt and Mikhailovskaya Ul. You enter from the Culture Square, across the street from Grand Hotel Europe.
Bolshoi Zal has a 1,500 seat capacity and the acoustics are magnificent.
Throughout the 19th and 20th century, many illustrious composers performed or had their works premiered here, including Russian legends such as Stravinsky, Tchaikovsky, Rachmaninoff, Prokofiev, Shostakovich, Anton Rubinstein, Mussorgsky, Rimsky-Korsakov, Scriabin, and Glazunov.
If you attend a concert in Bolshoi Zal, you are expected to stand up when the "Hymn to the Great City" is played at the very end of the performance. The hymn is about the Siege of Leningrad (St. Petersburg).
St. Petersburg Philharmonic Small Hall (Maliy Saal)
Address: Nevsky Prospekt 30 (Next to the metro station named Nevsky Prospekt)
This small hall is used chiefly for chamber music and recitals.
Jazz Philharmonic Hall
Address: Zagorodny Pr. 27
This hall is located south of Nevsky Prospekt. The closest metro station is Vladimirskaya.
The Jazz Philharmonic Hall offers jazz performances a few times a week.
Mariinsky Theatre

Address: Theater Square 1
Chiefly famous for opera and ballet, the Mariisk Theatre also offer orchestral concerts. There are three stages here, including one named the Mariisky Concert Hall.
Note: During much of the Soviet Union era, this venue was known as Kirov Theatre and that name is still sometimes used abroad.
Where can I buy my concert ticket?
For many of the orchestral concerts in St. Petersburg, you can buy your ticket from any of the ticket kiosks known as Театральная Касса (Teatralnaya Kassa), which are scattered throughout the central city.
Many concert venues also sell tickets directly, and they might have tickets left for a specific performance even when the Teatralnaya Kassa kiosks have run out of them.
Some venues have their own official web sites from which you can purchase tickets. Make sure you are actually at the official site and not at a third-party site, because some of the re-sellers of tickets online charge a hefty commission for their service.
What is the Saint Petersburg Philharmonia?
Saint Petersburg Philharmonia (Санкт-Петербургская филармония) is both a music society in Saint Petersburg and is the name of its main building, where the St. Petersburg Philharmonic Grand Hall is. The Saint Petersburg Philharmonia also runs the St. Petersburg Philharmonic Small Hall (Maliy Saal) on Nevsky Prospekt.
The society hosts two symphony orchestras:
Saint Petersburg Philharmonic Orchestra
Saint Petersburg Academic Symphony Orchestra
Which is St. Petersburg's oldest symphony orchestra?
Saint Petersburg Philharmonic Orchesta (Симфонический оркестр Санкт-Петербургской филармонии – Symphonic Orchestra of the Saint Petersburg Philharmonia) is the oldest one not just in St. Petersburg but in all of Russia.
It was founded in 1882, under the name Imperial Music Choir, to perform at the court of Emperor Alexander III.
Among other things, this orchestra has premiered seven of Shostakovich's symphonies.